How does the process of getting a brace look like?
If you will get a brace, a lot will happen. On this page you can read what's going to happen before your orthosis is just as normal as your own shoes.
The provision of an orthosis always happens according to a standard schedule. We will walk you through the different phases.
The first and most important is the history of an analysis of your particular situation. Together we will search what is best in your situation. Sometimes this is not an orthosis. In that case, we will refer you back to your therapist, or advise you to contact someone else. However, if the analysis shows that an orthosis is the most suitable solution (and your insurer approves), the process of getting a brace can be initiated. The following phases are followed in succession:
1. Measurements for the brace
If together with you we have decided that an orthosis is a suitable option for you, the measurements should be taken. Click here for more information about the measurement process. This measurement happens by taking photos. Casting the arm or leg is not needed at Ambroise.
2. Production preparation

When we have the measurement data, Ambroise can start preparing the production of your orthosis. The first step is to load the measurment photos of you into our own developed software. That software is able to convert the measurement data into a detailed production order (including molds, drawings, charts and component lists). Now the actual production can start.
3. Production of the brace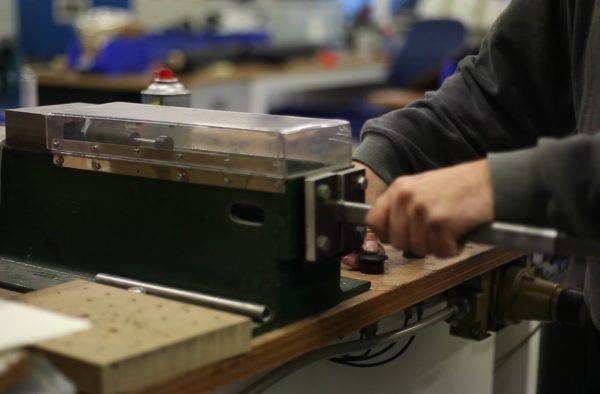 Based on that order, an individual customized orthosis will be compiled for you. During this production we use strikt quality procedures. We only use the best materials and components. Many of these parts are made especially for Ambroise on our specifications. For example, we can make demands on materials and tolerances in size. And that is what we are doing in the Netherlands in the vast majority. That gives us the best guarantee that we get top quality parts for your orthosis.
For the production of a customized orthosis at Ambroise we use many specially developed machines and arrangements. This way we can make exactly what we want and meet the high standards that are asked by a customized orthosis. Once your orthosis is completed, it will be carefully checked once more using a comprehensive checklist. Then the orthosis is released by us.
4. Fitting and adjustment the brace


Then you will receive a call to come and fit the orthosis. During this fitting phase, the latest adjustments are made and the orthosis is adjusted to your arm or leg. Even though we are able to make an appropriate orthosis with our software, only when you are going to load and use the orthosis we notice where small adjustments are needed. Sometimes a little bit extra or less pressure a great influence for the user. That is why the fitting phase is an important teamwork, with you as the team's most important player. From our knowledge and experience, we look at how we can find the optimal adjustment for you, depending on your feedback.
Additionally, you should note that the actual irritations of wearing an orthosis only occur after some time. That's why it's a fitting phase and maybe more appointments are needed to help solve all those points. You must be able to trust the orthosis and have the least possible obstacle. Only then can you get the maximum from the orthosis and we have provided an orthosis that really fits your body.
5. Physiotherapy
After your orthosis is properly adjusted, the "real" work will start for you. Now you must learn how to handle your new orthosis. We advise to receive professional support from a physiotherapist with experience in the field of orthopedics. For the leg orthosis, good knowledge of gait training is a must.
6. Double check
If you have been wearing your orthosis for about two to four weeks, we advise you to make a check-up appointment. As you slowly get used to your orthosis, it may be necessary to adjust it. As mentioned above, some things will only be noted during proper use of the orthesis and not during a first fitting appointment. Because, depending on your insurer, you have to use your Ambroise orthosis for at least two to three years, we make sure that the orthosis really fits your body, even at the end of the day, wearing it a full day. And we do that check as often as necessary.
7. Final check
Usually after a first check (see point 6), there is another period to get used to the changes made during that first check. If then everything is ok, final check-up follows. Now it's time to dot the i's and cross the t's. That does not mean that we don't want to hear your questions or problems that may arise later. We know as no other that the combination of an orthosis and a leg is not constant. What's okay today can be terribly annoying tomorrow. Therefore, you can request a consultation at any time (click here for contact details). We will look together with how we can help you and and make your orthosis as you wish.
8. Annual check-ups
Your orthosis requires maintenance. Therefore, it is important that you come for an annual check-ups. For most people once a year is enough, but with very intensive use it may be necessary to get it checked more frequently. The periodic check is not only for your orthosis but also a check point for us to ensure that the brace is still the most appropriate solution for you. It could happen that your certain muscle groups got stronger, or you have lost strength and control, which both can be a reason to evaluate the solution of getting a brace.